Dashboards met waarde voor de hele organisatie (Concept)
Concept: Wouter Nieuwenhuizen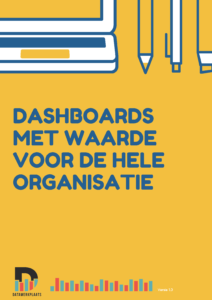 Het instrument 'Dashboards met waarde voor de hele organisatie' is ontwikkeld door de Universiteit Utrecht en de Gemeente Woerden.
Het organiseren van dashboards is een proces dat vaak technologisch wordt aangevlogen. Uit onderzoek van de Datawerkplaats en de gemeente Woerden blijkt dat organisatorische en menselijke aspecten minstens zo belangrijk zijn.
Deze tool is ontwikkeld om binnen de organisatie het gesprek aan te gaan over dashboards. Wanneer verschillende belangen en percepties niet worden besproken en meegenomen in het invoeren van dashboards, kunnen dashboards ontstaan die alleen zijn gevormd vanuit een bepaalde rationaliteit en beperkte waarde opleveren voor de hele organisatie.
Soms heb je niet door dat jouw standpunten niet universeel zijn. Zo kunnen dashboards voor een administratief medewerker een andere lading hebben dan voor een teamleider. Door de stellingen uit deze tool met elkaar te bespreken wordt inzichtelijk hoe verschillende mensen binnen de organisatie anders kunnen denken over de organisatie van dashboards.
Universiteit Utrecht, 2020 Dashboards met waarde voor de hele organisatie – Versie 1.0 mei 2020
Noch de Universiteit Utrecht, noch de Gemeente Woerden zijn aansprakelijk voor (mogelijke) schade in verband met, of voortkomend uit, het gebruik van materiaal of inhoud van de 'Dashboards met waarde voor de hele organisatie'.