Data Team Start
Concept: Justien Dingelstad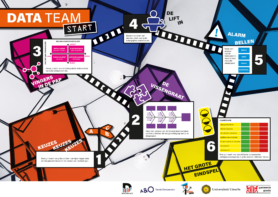 Data Team Start kan gebruikt worden in een sessie van een dagdeel (ongeveer vier uur). De sessie bestaat uit zes opdrachten. Elke opdracht bestaat uit een inhoudelijk component en een reflectiecomponent. Het doel is om het team in gesprek te laten gaan over hoe de teamleden als groep samenwerken, wat zij aan kwaliteiten in huis hebben en hoe zij dit – waar nodig – kunnen verbeteren. Het resultaat van de sessie is een reflectie op de samenwerking als dataprojectteam, een aantal concrete afspraken over de mogelijke verbetering hiervan en een aantal inhoudelijke analyses.
Versie 1.2 (oktober 2020)
Versie 1.0 (januari 2020)
De 'Data Team Start Poster', handleiding en powerpoint zijn ontwikkeld door de Universiteit Utrecht en de Gemeente Gouda.
Utrecht University 2020 Data Team Start – Versie 1.0 maart 2020
Noch de Universiteit Utrecht, noch de Gemeente Gouda zijn aansprakelijk voor (mogelijke) schade in verband met, of voortkomend uit, het gebruik van materiaal of inhoud van de 'Data Team Start'.