Nieuws
Call for Participants | Online Data School Summer School 2021: 'Exploring Culture Through Data'
Are you curious, eager to learn and would you like to have an enriching experience during your summer holidays? The Data School Summer School would make a great opportunity!
We are more than happy to invite you to the Utrecht Data Summer School 2021. From Monday 19th of July until Friday 23st of July, we will host a full online week of workshops, tutorials and guest lectures. We welcome you, students and non-students, to join us in this 5-day online crash course in data practices and digital methods.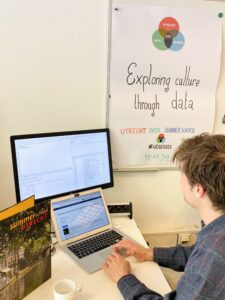 What's in it for you?
During this week, you learn about the data practices that make up so much of our everyday lives. You receive training in digital methods and data analysis with which you can analyse the ever advancing datafication. All participants get acquainted with some of the (methodological) fundamentals of Digital Humanities, like data collection, data selection and network analysis. You'll get an introduction to Python and Tableau and you learn to apply a Critical Data Perspective. Don't be scared. You don't need prior skills in data methods. Do you have a strong willingness to learn? Perfect. You definitely will learn a lot.
The week will also be filled with online lectures by prominent guest speakers from various backgrounds. And it does not stop there. By the end of the week you're able to work on a real-world case. In small teams you apply your freshly gained skills.
Students – and non-students – of all disciplines are welcome! Our team consists of media and literary scholars, philosophers and sociologists – among others – who all benefit greatly from the use of digital methods, and a critical understanding of our datafied society.
Successful completion of the Data School Summer School will result in 2 ECTS credits and will be rewarded with a Data School Summer School Certificate of Participation.
You can apply for the Data School Summer School at the Utrecht Summer School website.
Reasons to apply:
This will be the chance for humanities students and (beginning) researchers to learn about the basics of digital methods, in a hands-on fashion. It will enrich your methodological understanding both practically and theoretically.
This summer school will be at entry level, and the learning curve will be steep. We are committed to the educational character of this summer school, so participants will have extensive tutelage. We truly believe that this could be the start of your Digital Humanities or Critical Data Studies career!
For (international) students who are enrolled in the Master's program New Media and Digital Culture in Utrecht, but lack the computational methods skill set, or have no clear understanding what data-literate research within the humanities means, this summer school is strongly recommended. The students will get a head start on working with computational tools. The program will be complimentary to – but not overlapping with – the Master's program.
We are committed to working hard, but also to playing hard. This will be a great way to start your academic year.
In short: the practical stuff
Date: The online summer school will be from Monday 19th of July until Friday 23st of July 2021. The classes will take place everyday from 08:30 a.m. to about 17:00 p.m (UTC+2), breaks included.
Where: The summer school will take place online, due to coronavirus measurements.
What's included: For all participants Data School summer school will provide:
2 ECTS
Online teaching and study materials
A certificate at successful completion
Application Procedure
How to apply?
If you are interested you can apply by going to the Utrecht Summer School website. Your application email should contain your (academic) background (CV) and your motivation for applying (motivation letter).
After the application, you will receive a notification that we successfully received the application. Subsequently there will be a selection procedure based on the applicant's file. You will receive confirmation of admission by email within five working days. The email will also provide you with further information on the summer school and with the means to pay.
Selection Procedure
As we said before: students of all disciplines are welcome, as well as non-students! Although the summer school is at entry level regarding computational methods, we do expect a certain level of academic maturity. Therefore, we will not admit students with less than 67,5 ECTS at bachelor level.
The number of participants will be limited, so don't wait too long to apply. We hope to see you online in summer!
Contact
Do you have any questions? Don't hesitate to e-mail us: summer@dataschool.nl. We are happy to help!