Data Ethics Decision Aid (DEDA)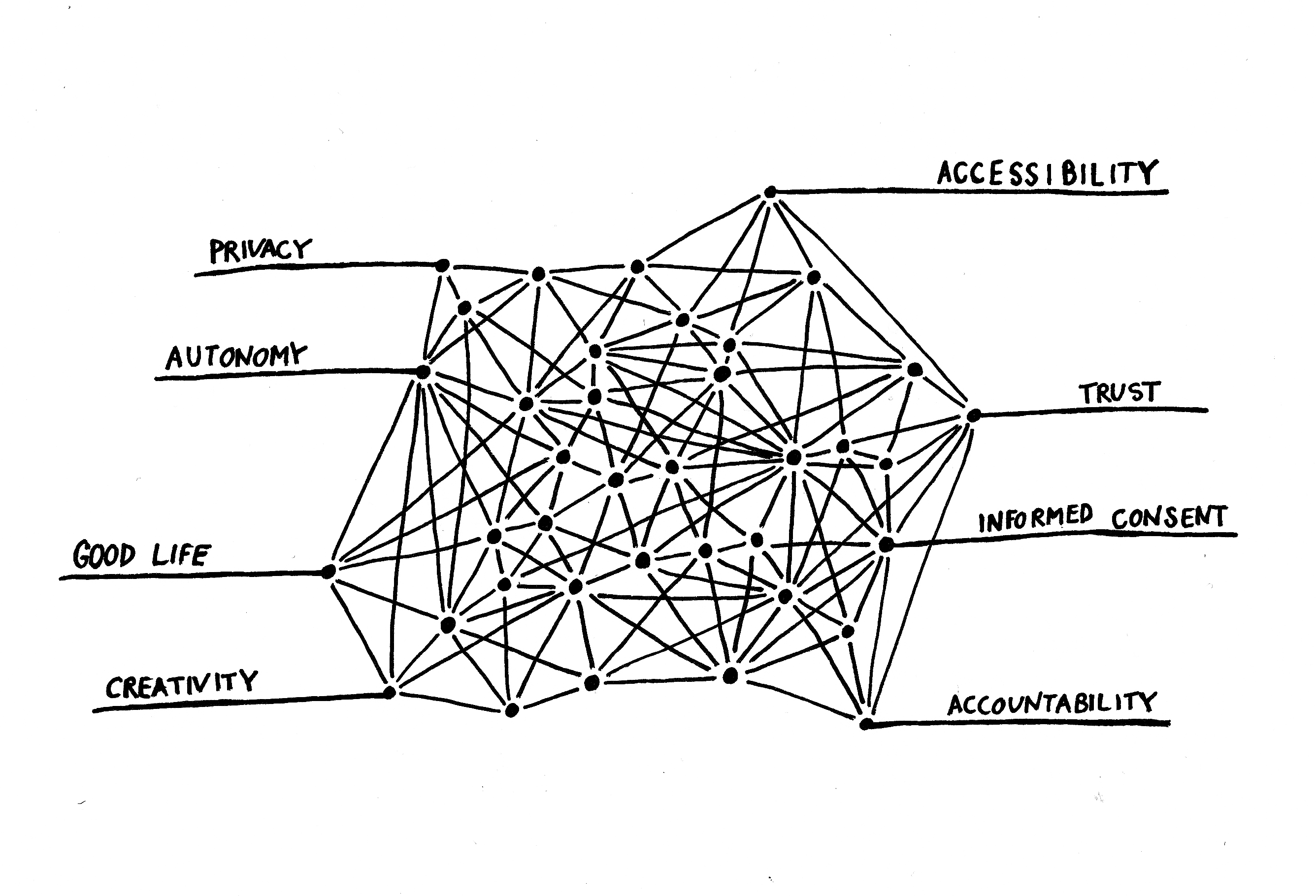 DEDA helps data analysts, project managers and policy makers to recognize ethical issues in data projects, data management and data policies.
Developed in close cooperation with data analysts from the City of Utrecht, DEDA is a tool-kit facilitating initial brainstorming sessions to map ethical issues in data projects, documenting the deliberation process and furthering accountability towards the various stakeholders and the public.
DEDA consists of a worksheet for brainstorming sessions, an interactive questionnaire and a manual. All tools are published by the Utrecht Data School of the Utrecht University.
For further information please mail to info@dataschool.nl or fill in the contact form
DEDA is
A tool-kit for deliberation and documentation
Developed in the field (in cooperation with practitioners)
Designed for users
DEDA
Fosters accountability
Educates users
Communicates problems
Supports project management
DEDA.materials
The DEDA worksheet is a large poster (A0). It enables a deliberative discussion for interdisciplinary teams, stakeholders and project managers. It addresses the various phases of a project and the different ethical issues that might emerge. The worksheet is designed to enable teams to place comments or post-its.
Download the DEDA.worksheet (A0, PDF)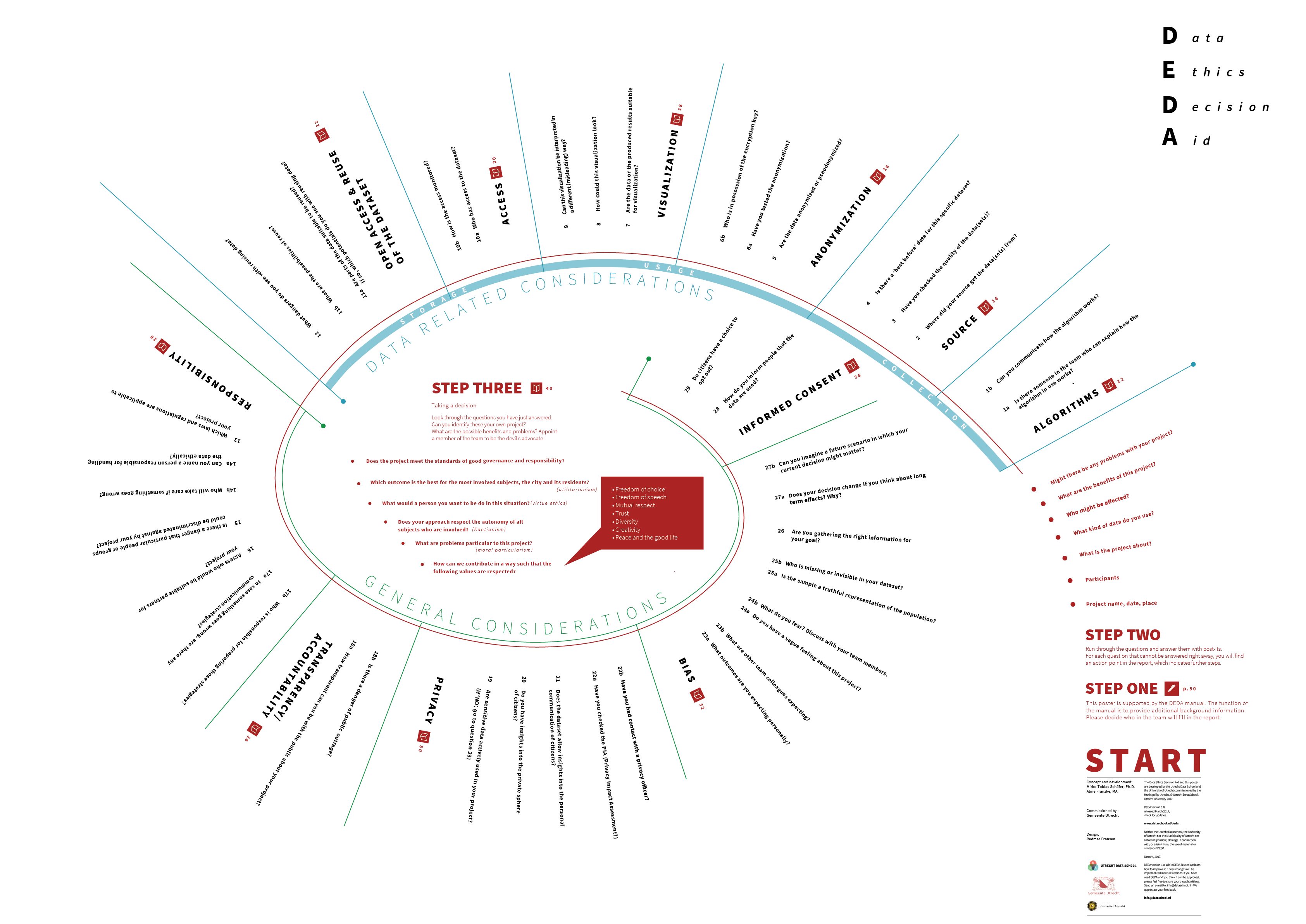 The DEDA app also addresses the different phases of a data project with individual questions. Depending on the user's answers, DEDA responds with new questions, addresses concerns and points to action points. It also documents the users approach to the ethical issues. The resulting report can be used to further scrutinize the ethical compliance of a data project and/or be archived for documentation, transparency and accountability.
For getting the best out of DEDA and in order to implement it most efficiently into your organisational processes, we recommend a workshop with our data ethics consultants. A DEDA workshop is for groups up to 25 people and will take around 3 hours.
For further information and prices please mail to info@dataschool.nl or fill in the contact form. We are happy to schedule a presentation or a workshop.
After the workshop you will:
Know about ethical issues in your everyday data projects.
Know how to constructively solve practical cases with the help of ethical theory.
Understand the societal relevance of data ethics.
Start preparing for the General Data Protection Regulation of the EU that will be enforced in 2018.
DEDA.manual
Gedurende de workshops wordt er gewerkt met de aanvullende handleiding die achtergrondinformatie en begeleiding biedt. De DEDA handleiding adresseert de verschillende fasen van een onderzoeksproject met een aantal vragen. De vragen betreffen ethische bezwaren en juridische aspecten.

Disclaimer
While using DEDA, we learn about how to improve it. These improvements will be implemented in future versions. Please don't hesitate to contact us with your comments and remarks: info@dataschool.nl
Utrecht Data School is not liable for any damage which has occurred or may occur in connection with and/or results from the use of materials or content of the Utrecht Data School.
Acknowledgements & Attributions
DEDA is developed by the Utrecht Data School of Utrecht University.
Concept and development: Aline Franzke, MA
Supervision: Mirko Tobias Schäfer, Ph.D.
Commissioned by: Gemeente Utrecht
Design: Redmar Fransen
Illustration: Sammy Hemerik
© Utrecht Data School, Utrecht University 2017 DEDA – Version 1.0 March 2017
Acknowledgements
Developing the Data Ethics Decision Aid would not have been possible without the support, help and the feedback of others. We express our sincere gratitude to Martin Jansen who is steering the efforst for data-driven public management at the City of Utrecht. Without his commitment to responsible data practices, DEDA would not have been materialized. The input of data analysts and project managers was essential. We thank Carolina Kaitjily, Floris Fonville, Geerte van Rije, Gregor van Raalte, Hans van Impelen, Linda Scheelbeek, Ling-Po Shih for their valuable feedback, informative contributions and for participating in focus groups. Observing and inquiring the actual data practices of municipal data analysts informed and shaped DEDA.
We indebted to a group of students from the Utrecht University's Applied Ethics programme: Aline Franzke, Luca van der Heide, Bas van der Kruk, Julius Bertasius. We also thank Gerwin van Schie, Iris Muis, Maranke Wieringa, and Christl de Kloe for feedback and copy editing, the entire team at Utrecht Data School, the participants of the ethics workshop at the Etmaal 2017 Conference at Tilburg University and the students of the RMA course Digital Ethics 2016-2017.