The Datafied Society – Mirko Tobias Schäfer and Karin van Es
From the back-cover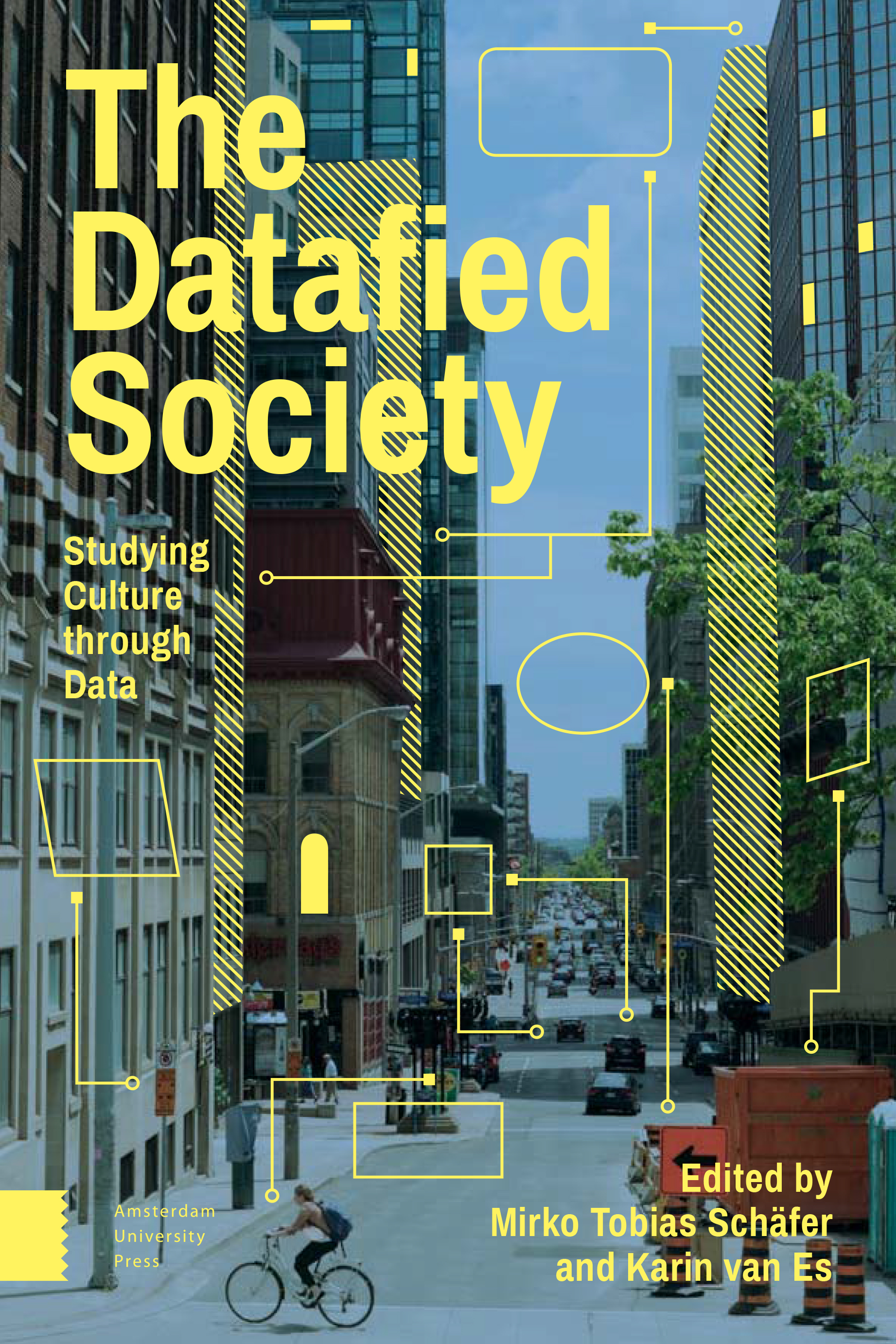 The large corpus of empirical data and available tools for data collection and analysis are changing the ways knowledge is produced. For the humanities, this transformation requires not only that we must critically inquire into how technology affects our understanding of knowledge and how it alters our epistemic processes, but that we also need to employ the new data resources and technologies in new ways of scholarly investigation.
The Datafied Society: Studying Culture Through Data thinks through the opportunities and pitfalls of doing research with data provides within the humanities (and media studies in particular). It covers different research methods, considers how researchers can engage with the datafied society, and reflects on moral and discrimination issues that need to be tackled when embarking on research. Through a series of four short interviews with leading scholars it furthermore pinpoints the key ideas in big data research.
This book is a collection of scholarly investigations into computer-aided methods and practices. While several contributors offer essays representing their skills, methods and exemplary research projects, others reflect on the sensibilities and competencies that scholars need to develop in order to study contemporary culture through data. Together they make a volume that will stimulate and engage humanities scholars via their perspectives on debates and reflections on the theory and practices of digital data research.
Testimonials
"As our world gets increasingly connected and mediatised, input and expertise from the humanities and social science becomes essential to understanding the dynamics, ethics and pragmatics of a datafied society. This book is an important contribution to meet the challenges of the platform-driven, data-fueled world in which we have all come to live."
José van Dijck, President of the Netherlands Royal Academy of Arts and Sciences, author of The Culture of Connectivity.
"We all know – or should know by now – how extensively corporations surveil our actions and analyze the data we leave behind. But we mustn't let our horror at the misuse of data dissuade us from considering how big data can aid us in our quest as scholars and changemakers to understand society, and to establish best and ethical practices in those pursuits. This is the first comprehensive look at the possibilities for a humanist approach to big data. "
Douglas Rushkoff, author of Throwing Rocks at the Google Bus and Program or Be Programmed
"The Datafied Society. Studying Culture through Data provides an abundance of methodological tools and reflection. Through combining interesting empirical case studies with sound theoretical reasoning, this interdisciplinary anthology with its excellent and diverse contributions is a milestone in the study of culture through data."
Judith Simon, Co-editor Big Data and Society
Contributors
Julian Ausserhofer, Dominikus Baur, Thomas Boeschoten, Asher Boersma, Liliana Bounegru, Elizabeth Buchanan, Mercedes Bunz, Nicolás López Coombs, Nick Couldry, Karin van Es, Carolin Gerlitz, Daniel Goddemeyer, Jonathan Gray, Mathieu Jacomy, Koen Leurs, Lev Manovich, Annette Markham, Eef Masson, Evgeny Morozov, Christian Gosvig Olesen, Moritz Stefaner, Johannes Paßmann, Cornelius Puschmann, Bernhard Rieder, Theo Röhle, Richard Rogers, Natalia Sánchez-Querubin, Mirko Tobias Schäfer, Gerwin van Schie, Tamara Shepherd, William Uricchio, Tommaso Venturini, Irene Westra
Cover design by Template with a photo by Pat Pilon
Order
Download the book for free at OAPEN
Order the book at AUP
Order the book at CUP